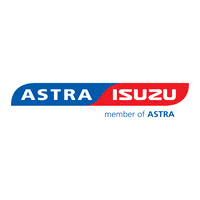 PT Astra International Tbk - Isuzu Sales Operation
Jl Danau Sunter Utara Blok O3 Kav 30 Sunter II
http://astraisuzu.co.id
Bidang Industri: Perdagangan dan Distribusi
PT Astra International Tbk - Isuzu Sales Operation
Distribution, Retailing, and After Sales Service of Isuzu Products in Indonesian Domestic Market
Visi :
1. To be "the dealer of preference" of Isuzu CV business in Indonesia
2. To be one of the best managed company (LCV Distributor & CV Preferred Dealer) with the emphasis on sustainable growth, building competence through people development, efficiency, and environmental friendly
Misi :
1. Highly Competent and Productive People
2. Good Business Ethics & Strong and Efficient Business Process
3. Customer Centric Culture
4. Committed to doing business with Good Corporate Governance & Corporate Social Responsibility
Lowongan tidak ditemukan.
Will be prepared & trained to be Admin Supervisor : join in class training and assigned project improvement....
Lihat Selengkapnya
Will be prepared & trained to be Supervisor: 1. Training Program on sales and management skills2. Learn the art of selling and marketing3. Organize, motivate, and drive the team to achieve targets4. Join the regular sales and marketing activities with team...
Lihat Selengkapnya
1. Will be prepared & trained to be Workshop Head2. Responsible for the productivity of the stall workshop & mechanics as well as feasible and function tools & equipment workshop3. Keep and perform maintenance functions and the systematic use of the equipment in order to achieve efficiency and high productivity in the workshop4. Keep in...
Lihat Selengkapnya